Basic Information
Name:
Renjiro Kyoya
Nickname/Alias:
Renji, Ren or Vongola Cloud Guardian
Age:
27
Age Appearance:
21
Gender:
Male
Appearance:
Renjiro has medium length brown hair which is usually spiked up or just left in a lazy messed up, just out of bed look. He stands 6'0" tall and weighs 12 Stone/76.20 Kg/168 Lb. This height and weight difference means that he is well defined but quite skinny, however this means that his entire body has almost no body fat in it apart from a few essential stores of it around his organs.
Renjiro typically wears a long sleeved shirt with a blazer over the top of it (both with the collar sticking upwards) with his Kumo headband around his right forearm, just below his armband which has the word 'Discipline' on it. He has that on there to constantly remind himself of the fact that he must keep himself in control at all times for the good of the people around him. A trademark part of Renjiros appearance is his Tonfas as that is his main weapon and is always on his person. Finally his secondary identifier is his little bird, RenBird, which follows him around constantly or is in the nearby surrounding area.
Personality:
Renjiro being of a high and type of person even as a little child has led to him having very few 'friends' and a lack of respect for other authorities other than his own. He usually has his subordinates around him or doing his work for him but Renjiro shows them no respect or doesn't care for their well being. His fighting intuition is that beyond his rank and is almost never rivalled in fights of equal rank. In addition to this, his personality and hatred of crowded people bring on a strong will to 'Bite you to death' (which is one of his catch-phrases) which means he will kill the person because of their actions against the village and/or Renjiros own honour. Be careful, attack Kumogakure and you will feel the full force of Renjiros Cloud dying will flames (explained in special characteristics and weapons).
Goals:
To defend the Vongola 11th Boss
http://shinobiarmada.forumsmotion.com/clan-creation-f5/vongola-family-t39.htm#140
Rank:
Advanced Jounin
Ninja Rank:
Jounin A ranked
Village:
Kumogakure
Birthplace:
Kumogakure
Elemental Affinity:Dominant:
Wind
Recessive:
Water
Skill Specialty:Dominant:
Weaponry (Kenjutsu)
Recessive:
Ninjutsu
Renjiro has a few special characteristics and they are: -
Spoiler:
Spoiler:
Total: Advanced Jounin - 205Strength:
41.5
Endurance:
41.5
Dexterity:
61
Speed:
61
Total Stat Points Earned:
0
Mission Points Earned:
0
Ryo:
1,000,000 (due to re-edit)
None Elemental Techniques
Spoiler:
Wind
Spoiler:
Water
Spoiler:
ITEM 1
Name of Weapon or Item:
Tonfas
Location:
In their holders on his belt or in his hands
Description:
These Tonfas are chakra conductive Tonfas. Inputting a B rank amount of chakra will infuse both Tonfas with enough chakra to fully utilise the the tonfas true power, however the Tonfas can handle up to an A rank amount of chakra.
Inputting the chakra into these tonfas increases it strength (the force it will hit the opponent with due to the chakra increase) to that of an A rank weapon but also increases its swiftness (the way it moves through the air) to that of a S rank weapon. This is because it is infused with chakra which its aerodynamics making the drag on the weapon less.
Owner:
Renjiro Kyoya
Rank:
B
History:
Custom ordered and bought when he was 16 from the Kumogakure weapons shop for 459 Ryo.
Appearance:
Spoiler:
_____________
ITEM 2
Name of Weapon or Item:
Cloud Pentagram
Location:
In a necklace around his neck
Description:
This pentagram around his neck takes a B rank amount of chakra to activate and helps focus his chakra control. This is because of the high concentration of chakra flowing along the lines of the pentagram allowing for it to take control over Renjiros oozing chakra and recover it back into his chakra reserves. This therefore lowers the chakra requirement of any jutsu used, B rank or below, by one rank.
A secondary effect of this item gives him the ability to dispel any Genjutsu of rank B or below. This is because once again the amount of chakra around the lines of the pentagram disturbs any incoming form of chakra and its flow so it's intended function is voided due to instability of the precise chakra control needed for genjutsu.
Owner:
Renjiro Kyoya\
Rank:
B
History:
On Renjiro's travels across the continent he encountered a ninja market in the land of tea. The market was heaving with ninjas from across the continent and stalls as far as the eye could see. After hours of looking around the market Renjiro came across a very old man in a typical old and tatty gypsy outfit. The man explained the pentagrams abilities and how it worked and the inspiration of the items design. After much bargaining with the man Renjiro bought and experimented with the item for 2000 Ryo.
Appearance:
Spoiler:
Pets
Name:
Renbird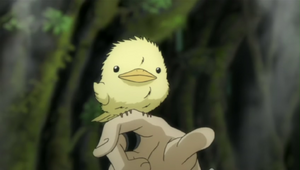 Animal Type:
Bird
Rank:
B
Owner:
Renjiro Kyoya
History:
Walking home late one night when he was a Chuunin he discovered an abandoned straw nest outside his window with one lonely egg in it. After keeping an eye on the nest for 3 days and not seeing any sign of the eggs parents Renjiro decided to take it into his warm apartment and keep it wrapped up in towels and a blanket to keep the egg warm. Three days later and the egg hatched revealing a small but cute canary like hatchling chirping away for Renjiro to care for.
From that day Renjiro has cared, loved and trained so it can be with him always even on the most difficult missions. RenBird's only specific training by Renjiro was aerial acrobatics skills and heavy weight carrying.
Animal's Natural abilities:
Flying and Agility in the air.
Clan Based?:
No
Abilities:
Abnormal strength for its breed. Renbird was trained as a hatchling to carry small loads and over time these loads have been increased so Renbird can carry a maximum of 55 kilograms.
Renbird has been around Renjiro for a long time and as such is immune to all Dying will flames produced by any item/weapon
_____________________
Summons
Summoned Creature
: Ninja Squirrels
Rank
: E-S
Appearance
:
Description
:
Ninja squirrels are like any other ninja animal with the ability to use chakra and to use that for specific tasks. However being that these ninja animals are remarkably small compared to other ninja animals (e.g. dogs) the summoning chakra cost of them are dramatically reduced. In addition due to this, the amount of summons produced per jutsu is increased regarding each rank. See table below
| | | | | | | |
| --- | --- | --- | --- | --- | --- | --- |
| | E | D | C | B | A | S |
| Number of summons | 0 | 0 | 5 | 8 | 13 | 15 |
Jutsu
:
Spoiler:
Contract
Name:
Squirrel Contract
Appearance:
Species:
Sciuridae
Location:
Within the center of the squirrel colony with a specific squirrel holding/in contact of it at all times.
Required Sacrifice:
Blood.
Client(s):
Renjiro Kyoya
Contract Holder:
Contract holder squirrel
Background Information/ RP Sample
History:
Spoiler:
RP Sample
Spoiler:
Public Profile
Name
: Renjiro (... Unknown last name on profile)
Appearance
: Brown short hair and wears a jacket
Village
: Kumogakure
Organization
: Vongola
Rank
:Unknown presumed S rank
Age
: 19 - 22
Info
: Little is known about this person except that he is the Vongola's 12th Cloud guardian and has unique chakra absorbing Ninjutsu. If you see this ninja and you are not a Kumogakure ninja RUN.
(
OLD APP IS LOCATED HERE FOR REFERENCE
)