JUTSU/ITEM/OTHER INFORMATION
Jiro possesses knowledge all Kurojutsu and Jashinic Weaponry Techniques as per the True Master of the Dark Art's Special Characteristic. Details on individual Jutsu can be found on the in Jashinic Jutsu thread (link can be found in clan section). Jiro is also the contract holder of the cult's summon, Vampire Bats. Details of the Summons can be found in the Vampire Bat Summons Thread (link can be found in clan section)
Jiro's Weapon's, Items and Equipment

Jiro, as Priest and leader of the cult of Jashin, has been bestowed many dark terrible gifts by his hateful master. As Jashin's favoured servant he possesses several powerful artefacts of tremendous powers which he users to further his master's causeName of Item
: Tome of Undying Blood
Owner
: Jiro
Location
: In the possession of Jiro, wherever he may be. It is too precious to be allowed to fall into the hands of the heathens
Rank
: A
Description/Abilities
: A heavy bound tome of knowledge whose pages are made from the skin of sacrificial victims which in turn have been written on in their blood. It is an immense and terrifying item that radiates unnatural power attracting all eyes to it. Needless to say such an item has a number of potent traits linked to it:
Spoiler:
History
: Though increasingly rare these days there still exist many scrolls, parchments and tomes containing the words of Jashin and the secrets of his dark world. Yet all of these pale in significance with one such text. Known severally as the black bible, the book of damned or the Tome of Undying Blood it is central document of Jashinic Faith and their most prized text. Made from human skin and written in the blood of sacrifices its pages tell the dark history of the cult and empire before it as well detailing every dark right and secret of the cult. Not only does it record all that was within it but all that is, the book has a life force of its own recording and noting all knowledge of the cult, its actions and its jutsu. Within the cult itself no item is more venerated or more closely guarded. Only the immortal disciples of Jashin are permitted to look upon it and touch is hallowed pages, for a mortal, even one bound to the cult to do so is considered the worst form of discretion.
Appearance
: The tome takes the form of a large and ancient leather book stain red with blood. Its cover appears to be screaming in pain and contorts constantly revealing terrible scenes of carnage and horrific images. It is bound in intricate and cruel brass work with clasps forged in the fires of Jashin's hell like realm. Finally the fine velum from which the pages are made comes from the skin of 1000's of sacrificial victims flailed alive during it initial creation. It is there blood that stains the pages, that provides ink for the words and that breaths life into it. Within its corrupting heart lies the very secrets of the dark god and all who gaze upon it can feel its unnatural power calling to them. It is a living thing, dark and horrific, a paper reflection of the Dark god himself and the very embodiment of the cult.
Name of Item
: Vestments of Eternal Night
Owner
: Jiro
Location
: In the possession of Jiro, wherever he may be. Often worn by Jiro in battle
Rank
: S
Description/Abilities
: Sacred Robes of Jashin are worn by the cult when operating in the open or as a group. These ominous robes not only grant them nominal protection and amplify their killing intent but serve to hide their true identities. However the downside is that they reek of evil and mark the wearer as a servant of Jashin. The affects of the robes are listed in full below:
Spoiler:
History
: Predating even Jashinic robes the priest of Jashin has long since taken to garbing himself in these blackest of vestments. Black as night, harder then steel and ominous as death the origins of this dark garment are grimmer still then those of the robes. It is a weave of demonic bone and flesh flailed from the skins of those follows immortals who dared to question the great lord of Dark himself. The robe is then sewn together be means of the victims own sinew and strengthened with arcane runes and terrible blessings. The end product is something akin to Jashinic Robes but altogether more powerful and potent
Appearance
: The Vestments of Eternal Night are a set of robes of horrific design and appearance. Taking the form of a combination of bone like armour and billowing black robes that seem to move unnaturally of their own accord, these dark vestments radiate hatred with every bone and fibre. Festooned with dark and hateful sigils and runes of incomprehensible design this set of sacrificial robes serves to inspire fear in all living things
Name of Item
: Draz'Narok, The Destroyer of Hope
Owner
: Jiro
Location
: In the possession of Jiro, wherever he may be
Rank
: S
Description/Abilities
: Draz'Narok is a S Rank Sacred Blade of Jashin that has within it the bound soul of enraged demon bent to Jiro's will. It serves as his weapon of choice and lives to taste mortal blood. It counts as a S Rank Sacred Blade of Jashin, possessing all traits and abilities associated with one in addition to the following:
Spoiler:
History
: Draz'Norak was once a powerful demon who preyed on the damned souls that inhabited Jashin's hell like realm. For centuries it grew greedy and powerful feasting upon them but in time encounter Jiro on one of the priest's pilgrimages. After trying and failing to devour him too a week long battle ensued that eventually saw his defeat. Weakened and broken he could not stop as Jiro bound him by ancient rituals to his own weapon, forcing the demon to reside with in the blade. At first Draz'Norak fought to possess the priest, then after failing in this to break free of the bonds that bound him but all attempts were brushed aside. To his horror he could not break the wards that protected Jiro and found himself trapped without hope of escape. For a while he raged in his a prison but this changed the moment he tasted the blood of the living. The quasi souls of the already damned were as nothing to the raw taste of the living and soon all thoughts of his former life drifted away. Sometimes the blade dreamt of regaining its once mighty form but these dreams grow ever rarer as it fixation for more and more blood grows with each passing year. It now serves its dark master more faithfully then ever, tamed and eager to please for but a taste of that wondrous elixir.
Appearance
: Draz'Norak shares its basic shape with that of other ordinary S Rank Sacred Blades of Jashin but the demon has warped its precise nature. Its many blades appear as flaming points and the haft itself is decorated with baroque bones motifs and stained with the blood of its victims. The blade radiates its own chaotic energy (which can be sensed in the same manner as chakra) giving a hint to its diabolic nature and power
Name of Item
: Soul Snare
Owner
: Jiro
Location
: In the possession of Jiro, wherever he may be
Rank
: A
Description/Abilities
: Soul Snare is a 30m robe/whip made of knotted human flesh surrounding a living sinew and encrusted with barb like thorns. It can be used as whip but is more commonly tied to the end of Jiro's weapon of choice and used to extend the weapons range and abilities. It's has but a few abilities which are as follows:
Spoiler:
History
: Created by a twisted cabal of flesh-melders who took the souls of the dead and bound them to constructs of human and animal flesh the Soul snare is a wicked and hateful whip driven by an insane lust to inflict the pain it constantly suffers on others. It was once the prized possession of the cabal's leader Zukirh but was pried from his cold dead hands by Jiro following the cabal's extermination in response to their misuse of ancient kurojutsu in their flesh-melding. Though Jiro finds the insane whip-like entity somewhat abhorrent Jiro recognised the benefits possessing it might give and took the item, imperfect as it was, for his own. At first the Soul Snare turned on him, trying to harm or break his grasp. However after subjecting to inhuman pain in response the whip has learnt better and now serves him loyal if perhaps reluctantly. Though he has used it as a whip in the past he mainly attaches to his weapons when in battle and uses the thing to destroy the enemies of his God.
Appearance
: The Soul snare is a like robe/whip some 30m in length made of knotted flesh and sinew and festooned with a myriad of retractable blades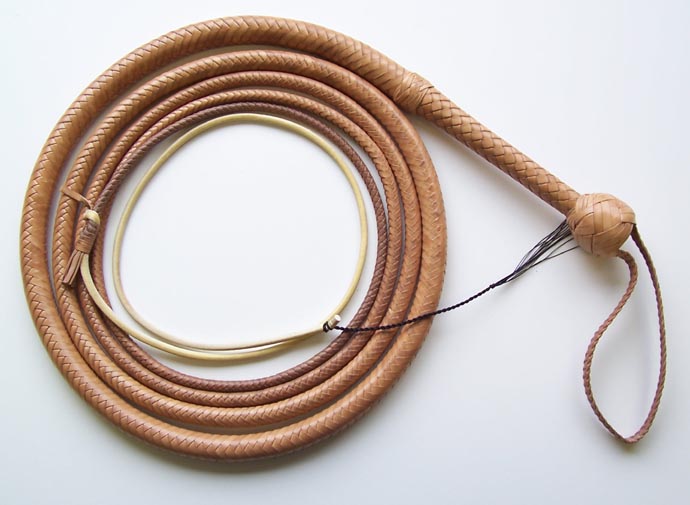 Jiro possesses a number of the more common Jashinic weapons, items and artefacts in addition to the more unique ones above, the details of which can be found here. They are as follows:
Jiro has access to and the ability to summon the Sacred Blades of Jashin, though he himself rarely carries one on his person.

Jiro carries two spares sets of the Sacred robes of Jashin with him if needed stored in a Jashinic blood seal, either for his own use or to present to others

Jiro has a personal Death Mask of the Damned carefully secreted on his person to be taken in when appropriate.

Jiro carries half-a-dozen Jashinic Voodoo Dolls stored in a Jashinic Blood Seal

Jiro carried three Cursed Stakes, hidden from sight beneath his long and billowing robes

Jiro like all devoted cultists bares the Mark of Jashin which can be found on his inner left forearm
In addition to these Jiro carries some 100 Kunai and 200 Senbon cleansed in the blood of the fallen to remove their mortal origins. That said he is reluctant to use such weapons given their origin
BACKGROUND INFORMATION
History:
TBA
Role-Play Sample:
As she finished organising the last of the field reports in preparation for the after lunch review Mrs Mitashi looked up from over her scholarly spectacles to survey the office as a whole. Cassandra was busy transcribing her notes from the latest meeting of the Security Council. Tayuya was going through the latest stock review with a liaison from the arms and armaments watchdog while Shikamaru was preparing fresh dispatches to be sent for encryption. All appeared to be well in her little island of efficiency with the lone of exception of Suki, who was doing what she did best, not a lot. A clever girl that one but too interest by half in other sex to her mind. Perhaps something to focus the girl on that matter's at hand would be needed
"Suki dear the economic committee of the ministry of tourism are meeting with His Grace to day with regard to the strip expansion proposal. As you know they have forward the documentation. Your couldn't be a dear and make some copies could you"
As expected the request broke the girl from her daydreaming with a satisfactory jolt and a quick "Yes Mrs Mitashi". With that done and the reports complete she turned her complete attention to the Lord Ichushiro's guests. Not her guests mind, she never made the mistake of confusing the two as some PAs did. Her professional pride that had honed her into effective taskmistress she was today wouldn't allow her to abuse her position as some did. She had of course smiled at them, given them the occasional friendly nod and polite greeting but her work had allowed for little more. They were a curious bunch indeed, 2 attractive yet distinctive Kunochi, a large ... man she decided after a moment's though, clad in a rather unusual shirt and one who had taken the Kazekage's formal invite rather too literally. They were all Shinobi of course, 3 decades of living with them and 2 of being married to one gives you an eye for it. From their graceful movements to measured glances for threats and potential exists everything screamed natural born killers, good ones if she had to hazard a guess. Not that she pondered this thought overly much, she was a practical women, not prone to whimsical fancies as often bedevilled Suki and her employer to name a few and carefully stood up and walked over to seating area with a certain odd grace. She was a slightly plump woman by all accounts who despite aging well was inexorably moving towards retirement with her carefully combed brown hair held in a bun and a warm if reserved smile.
"Welcome honoured Jounin. I appreciate you arriving in such a timely manner. I apologise for not greeting more properly earlier but my work encompasses many different aspects and unfortunately Kami has yet to add the extra 3 hours a day everything seems to need. My sincerest apologies, if you would follow me please"
He tone was odd mix of formality mixed with light humour with no trace of irritation or condescension, Mrs Mitashi may work hard but she enjoyed her job and was not one to complain or disparage others.
She led the Jounin towards the double doors that led to the Kazekage's office, almost reaching them before turning to her right and approaching a door that at first seem not to be there. There was no genjutsu involved, simply the work of a good craftsman who had an eye for subtle moulding. Walking up she appeared to touch the door for a few second or two as if waiting for some response only to be answered by the brief glow of a seal and the faint click as the door opening soundlessly on oiled joints. Beyond was a white corridor with white floors, white walls, white ceiling devoid of any fixtures and fittings with the exception of a set of double doors at one end. An odd room to be sure and one clearly with a function that belied its apparent emptiness With practised confidence Mrs Mitashi stepped through leading the others till they half way across before coming to a gentle stop at which point the door the entered seemed to close of its own accord
"Would you mind standing still amount, it shouldn't take long"
Anyone but a Nin wouldn't have notice anything out of the ordinary but a moment after she had spoken a barely noticeable trace of chakra indicated a scan in progress. Those who could see or sense chakra especially well would notice the large one way window behind which a couple of TSOKR operatives, one a sensor Nin scanned for danger. Moments later and the traces of chakra were gone. Mrs Mitashi who clearly used to this thing spoke up turned to face them adopting a polite even slightly apologetic tone
"An unfortunate necessity I am afraid. There are many who find Lord Ichushiro somewhat disagreeable. The TSOKR consider it prudent to keep close surveillance on all guests. I would like to thank you for co-operation and ask you do not personally. Everyone including the Kage are subject to it I am afraid""Before we go on I must brief on your protocol and if I could be so bold give some idea of what to expect. Please forgive me if I am preaching to the converted but I find accidents tend to happen if not mentioned. Regarding protocol there are only 3 rules you need know. Firstly you are to always address the Kazekage as either Kazekage Sama, Ichushiro Dono or Your Grace. Secondly the Kazekage has a number of … eccentricities which are considered impolite to point out. Thirdly and perhaps most importantly of all the His Grace as you might be aware has a cat called Mr Bigglesworth. While it is fine pet him on no accounts are you to feed him, he's supposed to be on a diet and the Kazekage will be most agitated should you try. As for what to expect I feel it's only polite to warn you that the Kazekage is not like most men, indeed much like anyone and his living quarters mirror's this. You will see many things, not all of which will make a great deal of sense. It's perhaps best if you have an open mind and don't think too much, I find you just end up getting a headache. If you do have any though I would ask you direct them to His Grace, for though explanations tend to be as bewildering as the items themselves, he at least might be able to shed light on them. Thanks for your patience and if you can be so kind would follow me again"
And with that she walked the short distance to double doors and pulled them open to reveal the hall beyond.
To say that the Kazekage's home was normal was to say that the man himself was not terrified in pocket lint and as the group passed down one of the hallway's doubtless many of the group would have been bewildered be what the saw. Everything was for lack of a better word was not quite right, from the tiny thunderstorm to the left hand side that was raining profusely into one solitary bucket to a giant cuckoo clock whose hands seemed to run backward and whose numerals where replaced with strange faces with various expressions on them. A portrait of 2 Nin who appeared to be quite literally re-enacting a battle stopped to wave at them as they passed while a miniature cherry tree on a plinth perpetually rained pink petals into a basin which in turn turned to water feeding the trees unnatural productivity. Perhaps even odder still was the cabinet containing grim tomes that kept pleading with the passers by to open it or the bright multi-coloured ball that bounced down the hall of its own accord nearly knocking over a porcelain elephant that was blowing bubbles high into the air. As if this wasn't enough the corridor itself was odd, for while its baroque styling was not especially out of the ordinary if you discounted the garden gnome wallpaper that decorated a section, the corridor seemed not to flow as one might expect. It should be straight but times it appear to lean at first to the right, then the left. Perhaps more confound was the tendency for ceiling to go incredibly short and walls very tight only for them to appear impossibly wide and the ceiling almost to high to see when you looked back. The place would be creepy if it wasn't for the air of palatable excitement, the odd glimpse through doors into even more wondrous and illogical rooms. From a mirrored music room to a sunken library spiralling into Kami knows where. All the Jounin could feel the chakra that permeate air, resonating through the halls and those with especial senses could only marvel at the tidal wave of seals that seemed to bedeck the place. To both Sensor Nin and regular Nin alike it was clear that normal was a highly subjective term in this place. Only the most observant would have noticed this Mrs Mitashi carefully looking straight ahead, trying not to be distracted as she honed on her target and the broad smile that momentarily lit her kind if at times severe face in anticipation of what was too come. Less then 5 minutes later and they arrived outside another set of double doors, though it seemed a lot longer. Time and space were often said to be subjective and no were more so then in the playground of impossibility that was Howl's sanctum. Mrs Mitashi stopped once more before the doors to open a small cabinet, which was filled with all manner of sunglasses of all size, colour and shape.
"Please help yourself. You will find it rather bright I dare say"
Giving time for those who wished to don there selected shades she smiled with the knowingly smile of one who knows what to expect and can wait to show others and opened the doors letting the light of 2 suns out.
Those without shades would be momentarily blinded, though they would soon enough join the others in amazement at what's was before them. Self bouncing balances and localised indoor thunderstorms were all oddities to be sure but nothing could possibly prepare the Jounin for what stood before them. Where there should have been a dining room there was paradise. A flowering tropical clearing leading to pristine white beach against which a crystal blue sea of unspoilt clarity slowly splashed against. Where there should have been a ceiling was a sky purple sky lit up by 2 suns, one pink, and one blue beaming down with unnatural beauty. The whole place was teaming with life, from luminescent shoals of fish in the sea, to radiant birds of all colours erupting from a tropical canopy heavy with wild orchids and blossoms. Most spectacularly of all was what appeared to a whale leisurely swimming through the air as if it had got bored of the sea one day and decided to take to the sky.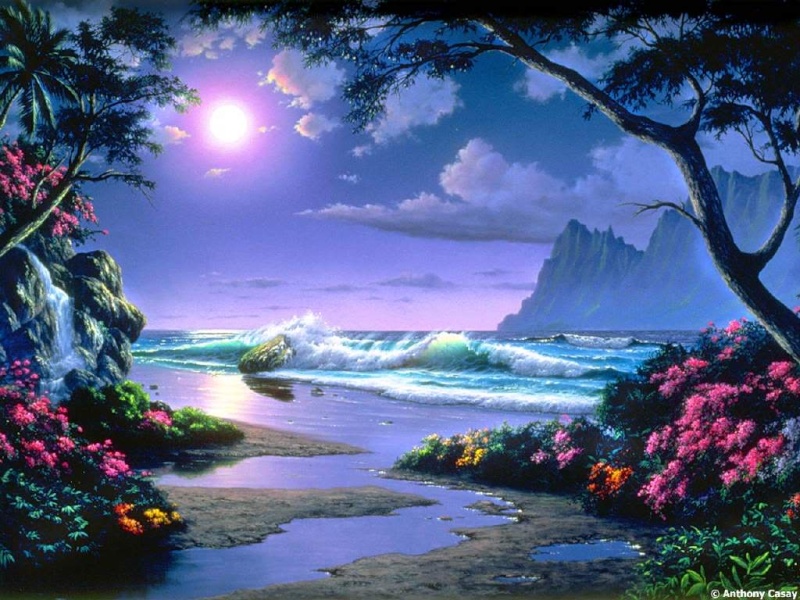 "Amazing is not, once room was nothing more then a rather tired looking conservatory without any plants. I remember telling His Grace a few plants would liven the place up and he got rather excited from what I recall. When I came back on Monday this was here"

Said Mrs Mitashi though even she said so slowly basking in the moment. No matter how many times she came here the feeling at utter contentment was always the same. Caught in the moment she accidently vocalised what doubtless a private thought
How could anyone capable of creating soo much beauty be considered a tyrant?
Not noticing her unwitting statement she led them on through the vibrant landscape that seemed defy all logic. Attempts to Kai the paradise away failed and attempts to see through it by means of kkg or other techniques had no effect. The beach and all about it were as real as the palace and yet could not possible. Not only was it unlike anywhere in the world but it was as bigger then the peoples palace at least on the inside if not from the out. Those capable of seeing chakra could with careful inspection see giant seals of unbelievable intricacy at certain points though what their function was is anyone's guess. As if to answer their unspoken queries Mrs Mitashi said
"I don't know how it is possible but it is supposedly real. The Kage is not clear on subject. I recall him something about a world within a world and that time and space are not as rigid as people assume. Much like the other things I find it's often easier not to look too deeply and simply enjoy it for it is. I must apologise but I must hurry us up. I believe we keeping the Kage waiting, it would be best if you were go introduce yourselves. My presence is no longer required and so I will enjoy a moment longer before returning to my work. I shall be here when you are finished. Enjoy yourselves and remember what I said
"
And with that Mrs Mitashi took one last look and turned to leave. In the middle distance, halfway up the glistening beach was a rectangular table surrounded by wicker chairs and groaning with all manner of foods. At the end closest to them facing away toward the fair distance was one large high backed arm chair surrounding by a small mountain of paperwork. As if this wasn't sign enough, the waft of tea and the unrestrained chakra signature emanating from it made it abundantly clear where their host was. All there was to do now was enjoy the sun and walk the leisurely 200yards to greet him.
PUBLIC PROFILE
Name
: Mr Bump
Appearance
: A black robed apparition believe to be male but this is not confirmed. No details concerning his appearance are known. His size and gait vary enormously from report to report and he as often as not as described as an apparition rather then a man. In any case all reports tell of the dread he seems to emanate
Village
: Unknown. He has been reportedly seen in several villages suggesting no fixed abode
Organization
: Unknown. Most common people think him a mythic figure, the bogeyman so to speak taken form with no alignments to regular civilisation
Rank
: Unknown. If he is real then he is likely high skilled and quite possibly dangerous given his uncanny ability to avoid detection.
Age
: Unknown. Believed by the civilian population to be an ageless apparition no reports give any indication of his age. His face has never been seen and many think it does not even exist, that under that robe is a dark void with two lidless flaming eyes
Info
: There have been scattered reports of sightings across the Shinobi nations of an individual stalking alleys, cemeteries and forest at night often in-conjunction with mysterious and grizzly events. Very little is known about the individual though popular myth seems to suggest the figure to be Bogeyman of sorts. Even so a few conspiracy theorist fear that he is something far worse. It is not even certain if Mr Bump exists, let alone what he looks like, what abilities if any he might possess or what his motivations may be. The problem has been complicated by a whole ream of popular myths concerning him from the ability to summon him by saying his name three times while facing the mirror or rumours that he consumes the souls of naughty boys who don't eat their vegetables. If indeed this figure is real however the fact that he has avoided detection for so long and inspired a culture of fear about him suggests that the individual behind it is not to be trifled.